With festivals comes joy of celebration, and with joy of celebrations comes shopping:)
Diwali is almost around the corner, and if you haven't finished shopping for your entire family like you usually do, no worries because I have got you covered:)
A brand that speaks volumes for its authenticity and its aesthetic touch can just never go wrong in its gifting area. 
If you are a person who loves traditional shopping, or even loves shopping for some copper products then this blog is certainly for you. And if you're planning to gift something unique to your loved ones, I'm creating a list below which can help solve all your problems. Check out this list of 10 gifts you can buy or maybe just get some inspiration from.
Potpourri Bowl/Foaters:
Keep your guest jaw dropped with Studio Coppre's floaters even known as urli. These home decors are just gorgeous pieces to look at. So this Diwali, why not float your candles with water on this pure copper floater or potpourri bowl to give your house a very authentic look.
Candle Holders: 
You know what's so great part about this online store? The products over here are so aesthetically pleasing, that it grabs your attention right away! And the best part? These products are authentically made of pure copper. 
The part that caught my eye was their copper pods also known as candle holders or tea light holders. These small copper pods are so uniquely created by Indian Artisans that you can fill them up with pretty much anything.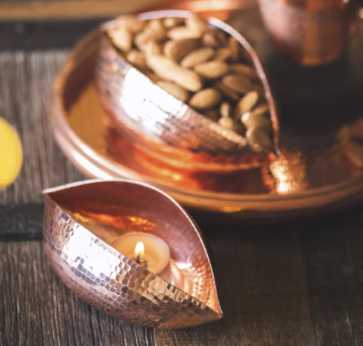 Photoframe:
Like Ed Sheeran once said, "We keep this love in a photograph", share some love this Diwali, with your dear ones in these beautiful photo frames. Made with pure brass, these antique-looking frames just never fail to impress.
Keep your memories intact with Studio Coppre's open and close frames. 
Buntings:
Now, this is something that you won't find everywhere. These pure copper buntings can simply just give a wow factor to your pooja room, making it go ordinary to extraordinary. You don't have to eat your brains up as to how to decorate your pooja room this Diwali. Just check out these copper buntings handcrafted with pure copper.
Throws:
If you enjoy shopping while admiring the aesthetics, Studio Coppre is the place to go. They have some of the greatest throws in town!
These throws will help add a touch of class to your sofas. Wrap your sofas with these soft throws made out of cotton and do not forget, handle with care;)
Planters:
The thing I appreciate the most in Studio Coppre is their effort towards creating eco-friendly products with the main intention of having zero wastage of their products.
 Studio Coppre sells planters made of pure copper and also made of grass. These planters can make any ordinary corner of the room look good. 
Also if you have any initiative towards going green this Diwali, go ahead and gift these copper planters or grass planters to your giftees.
Vase: 
Who doesn't love receiving flowers? And moreover who doesn't love preserving them in an exotic-looking vase? These copper handcrafted vases will just do anyone good. Studio Coppre specially sells handcrafted products by our Indian artisans. So next time you want to go shopping or surprise a loved one with flowers, don't forget to gift them a vase too:)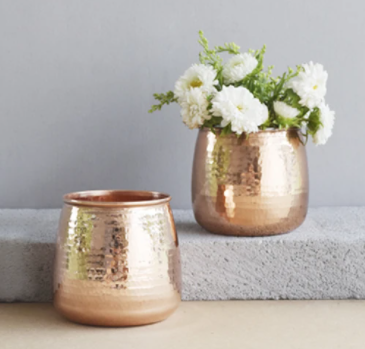 Tumblers:
This Diwali, serve your guests with these pure copper tumblers, made out of love and care. Since drinking in copper utensils has its additional health benefits, why not give these copper tumblers a try?
Tea light Holders:
Well, I'm back to square one again. These pure copper tealights just cannot be missed out to mention. These Diwali tea light holders just help enhance the house, on the whole, giving it a mesmerizing touch.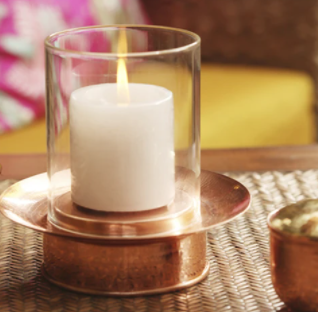 Cutlery/Tableware:
Take your pick from Studio Coppre's luxurious tableware. Celebrate the festival of lights the right way, by gifting these tableware products. Check out their kansa thali and taupe cutleries. 
Now all you have to do, is enter the website , cus once you enter, you're going to go all gaga over it. Spoilt for choices is the right key term that I would choose to describe Studio Coppre.